Texting is a popular topic as it's one of the most used methods to communicate. We have taken the approach of being non-intrusive by default but have the options to cater to each parent's needs and child requirements.
What are the defaults?
By default, we'll notify you when an unknown number (incoming or outgoing) is texted. This notification is emailed to the primary email address as well as an alert event created in Boomerang's reports both on the parent device and also in the Boomerang Web Management Dashboard. In addition, we'll also notify you when an inappropriate word is used in any text message. The inappropriate words are based on the dictionary which you can edit and customize.
How can I see all the texts?
Please login into the Boomerang Web Management Dashboard and click on the Texts Tab. Here, check the "Collect SMS Content" checkbox. Now that you have checked it, you will start to see the text message content. Please note that for MMS messages, we will collect text content from them if there is any. If the MMS just contains an image or video, then we only log it as we do not collect images or videos.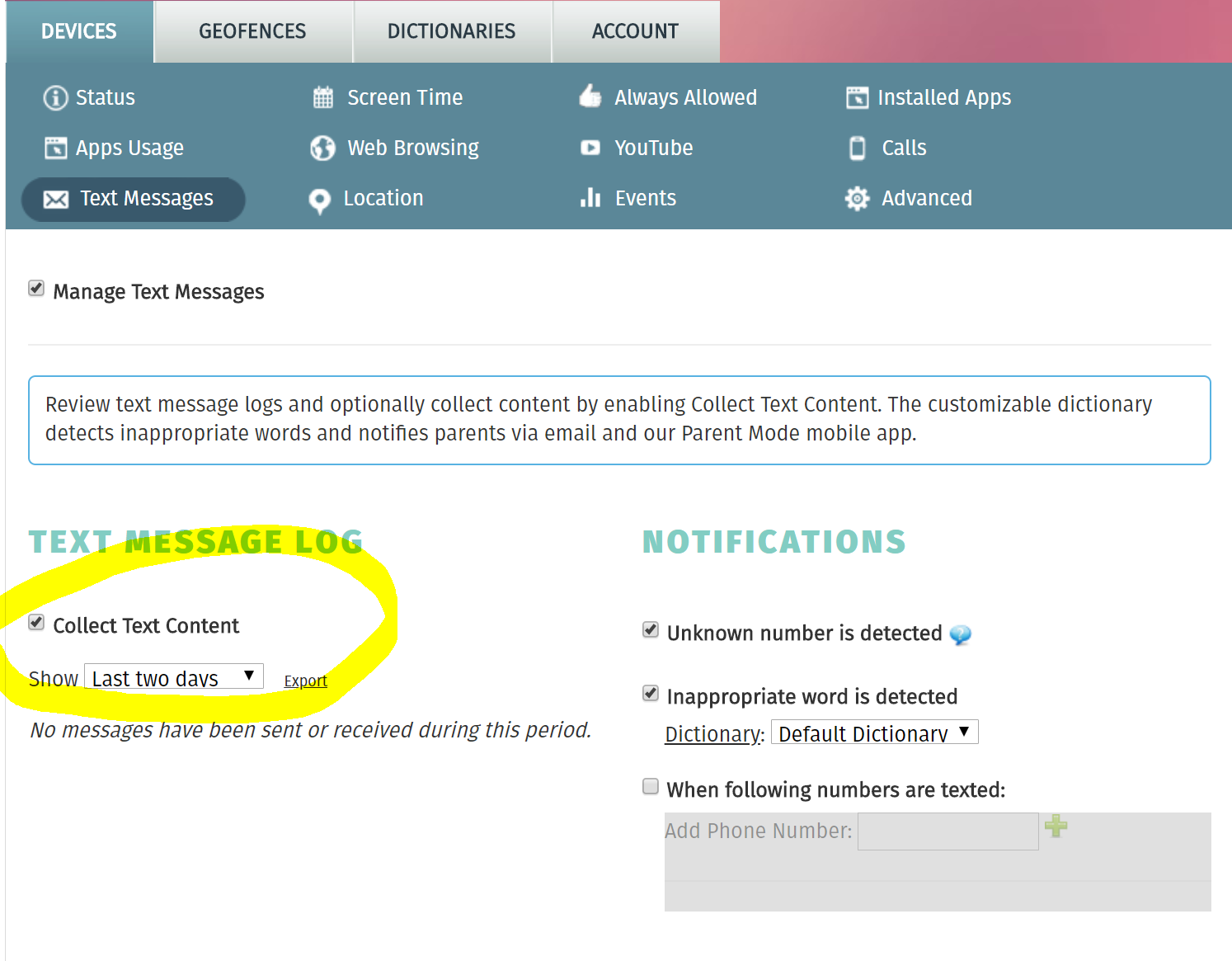 Can Texts be Blocked?
No. In the fall of 2015, Google made changes to the Android operating system with the release of Android 5.x that no longer allows the blocking of text messages. So we can only notify Parents when certain numbers text your child and/or your child texts certain numbers. So there is no way to block text messages for certain numbers and allow them for certain numbers.
So we can block Calls but not Texts. We can only notify you when an unknown or blocked number texts or is texted. If you want to be sure that you get notifications when a number texts or is texted then add that number into the web management dashboard Texts Tab under "The following numbers text my child:"

Note: If you really want to block Texts, you can block the Messaging App entirely, so that nobody can be texted or text in.
Advanced:
If you ever need an electronic copy of all your child's messages (and if you had the "Collect Text Content" enabled) then in the Boomerang Web Management Dashboard's Texts Tab, you can click on the "Export" link and you will be able to download a file that you can open using Google Sheets or Microsoft Excel. Note: The maximum period that we store any and all data, including texts is 30 days.
Testing & Troubleshooting:
Testing:
After enabling the "Collect SMS Content" checkbox, send your child a text.
Send a text to yourself from your child's device.
Open Boomerang on your child's device and tap 3 dots and then Update Status. This forces the device to check into our server immediately.
Now is the content viewable in the Reports on your phone with Boomerang running in parent mode and is it viewable in the web dashboard's green bubbles in the Texts Tab?
Troubleshooting:
If something is not working then most often it is due to the specific Messaging App itself as some of them store the data in a non-standard method. This can result in either the Texts not being logged or in outgoing texts not being logged. To resolve this, use Google's own Android Messages App. Set it as the default and then retest.
Related Topics:
Can I see picture messages with this app?
If someone texts my daughter she can reply back through the notification bar. Can anything be done about this?
Discover More: Watch this video to see the entire configuration options and become a Boomerang Expert!