To ensure safe calling and safe texting features continue for you, it is essential to install the version from our download page on your child's Android smartphone.
This change is thanks to Google changing their policy for the Call and SMS permissions. We requested an exemption a few times by explaining the safety aspects of these features for our user base but simply received "quoted guideline" replies.
❗️Perform the following steps on your child's device and use SPIN Safe Browser. 
Step 1- Visit our special download page to get our latest full version of Boomerang with call and text messaging safety.
*Allow the Storage permission for SPIN Safe Browser in order to save this file to your Android device.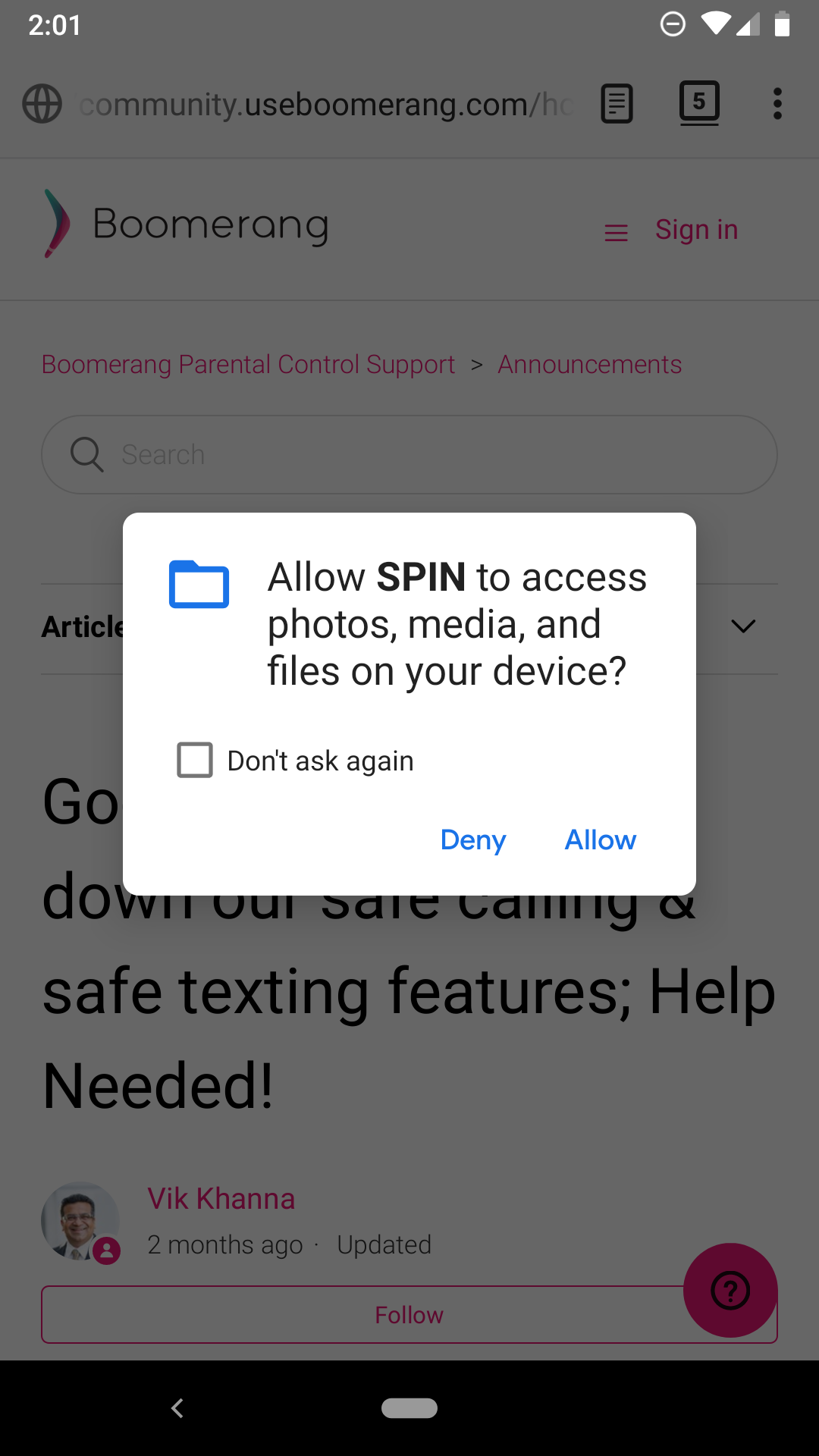 Step 2 - Install Unknown Apps on your Android devices.
After downloading the file, a security prompt will appear warning you about Unknown Sources. Tap on Settings > toggle on Allow from this source. Then hit the back navigation button to continue with the installation. 
These steps should be close to identical for all users (including those how are using other browsers).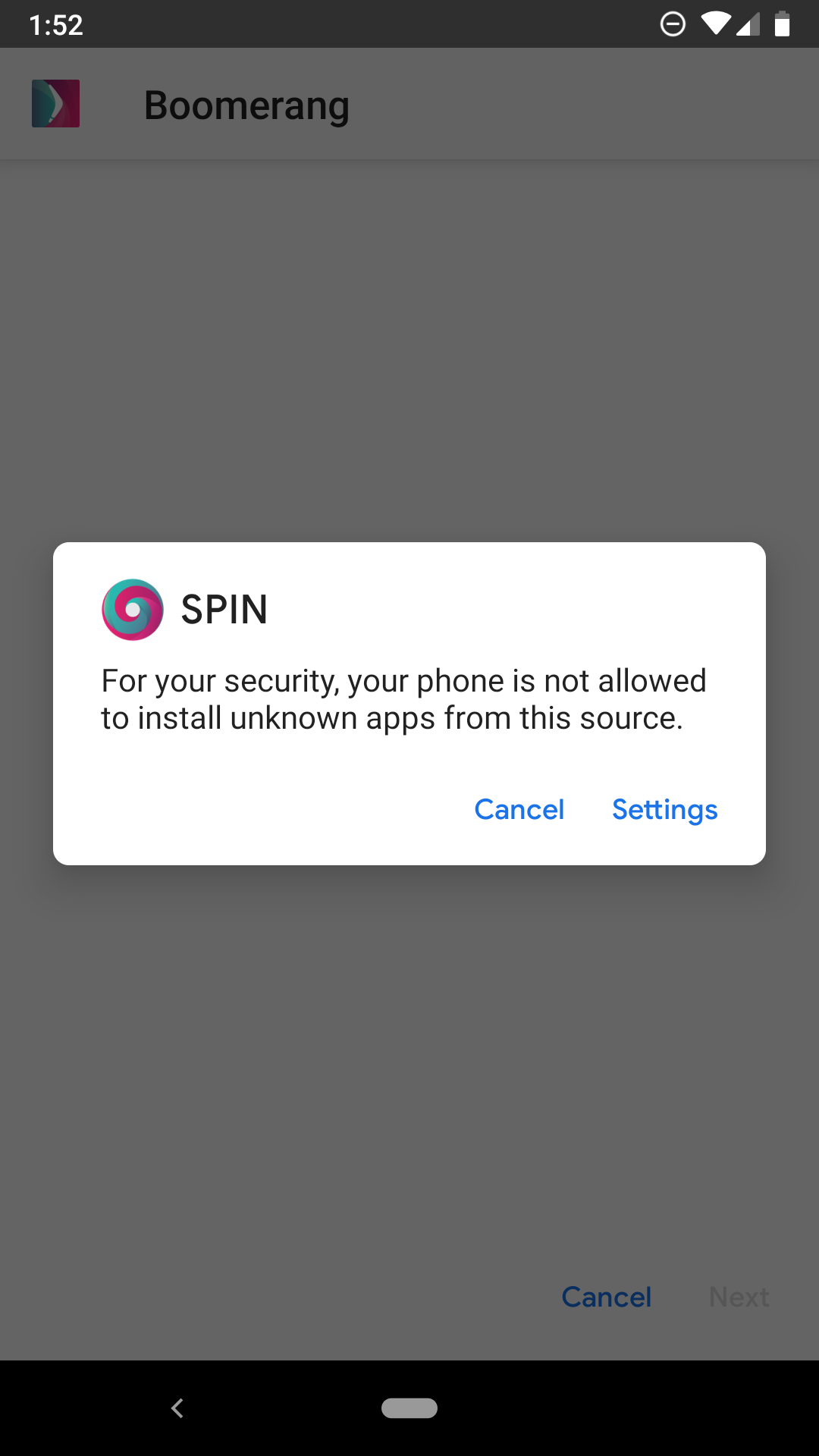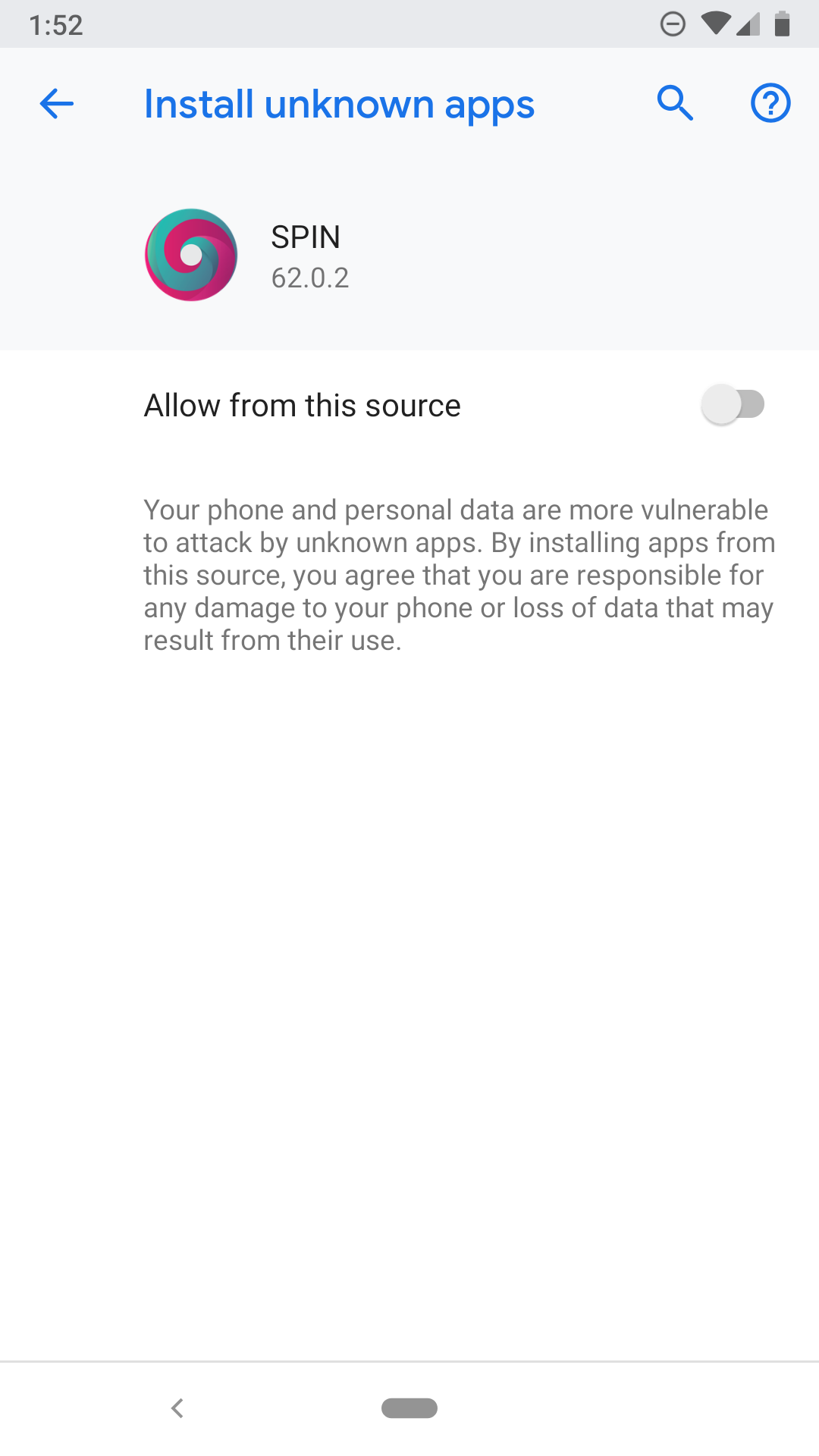 Step 3 - Tap Install to continue
Upgrading from Google Play version: the downloaded version will update on top of the version from Google Play. Please open Boomerang after the upgrade, accept permission requests for Contacts, Calls and SMS, then tap on the three dots > Update Status.
Your child device settings will remain intact after upgrading.
New app installs: If this is a new install, just follow our onboarding steps.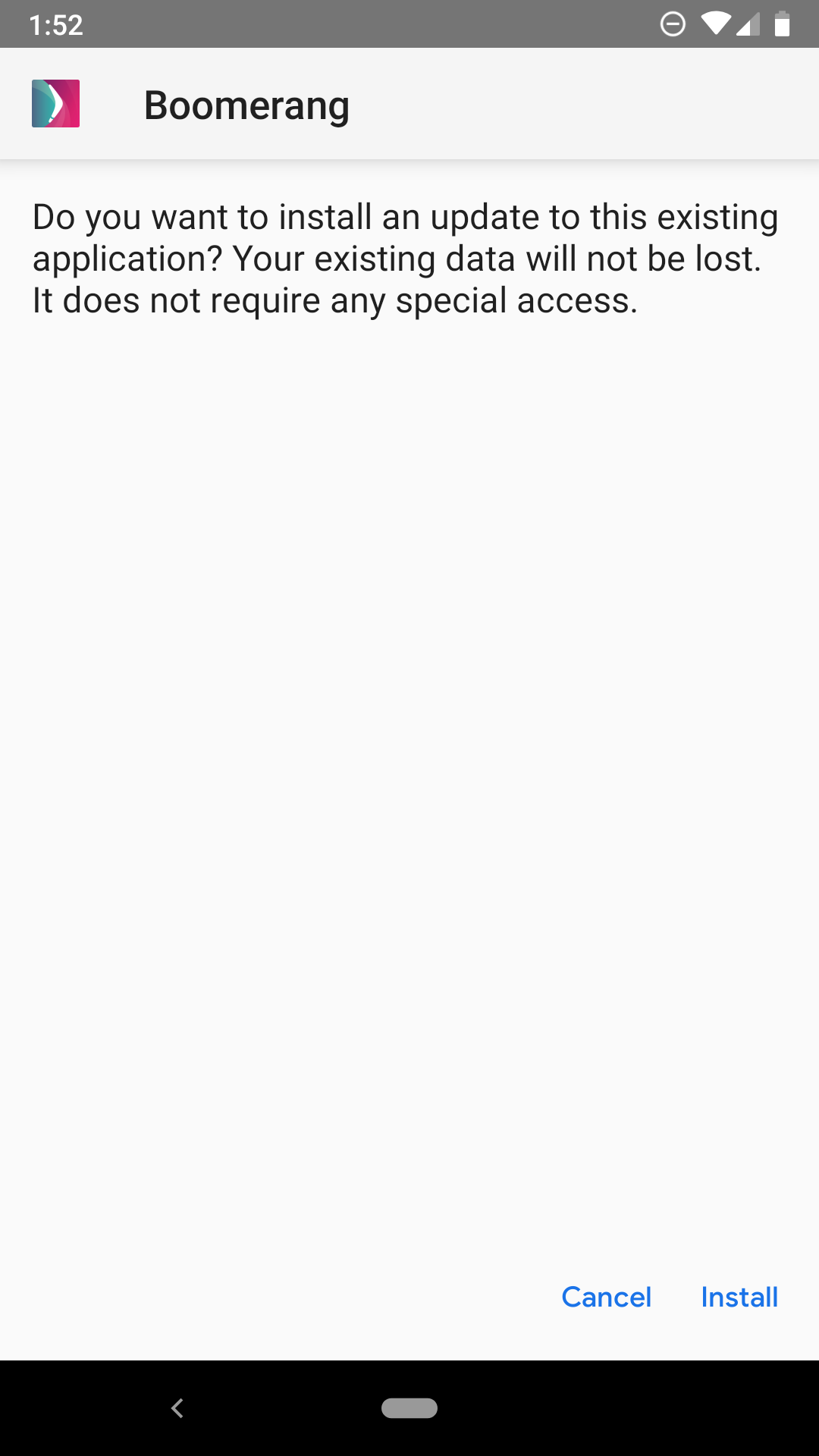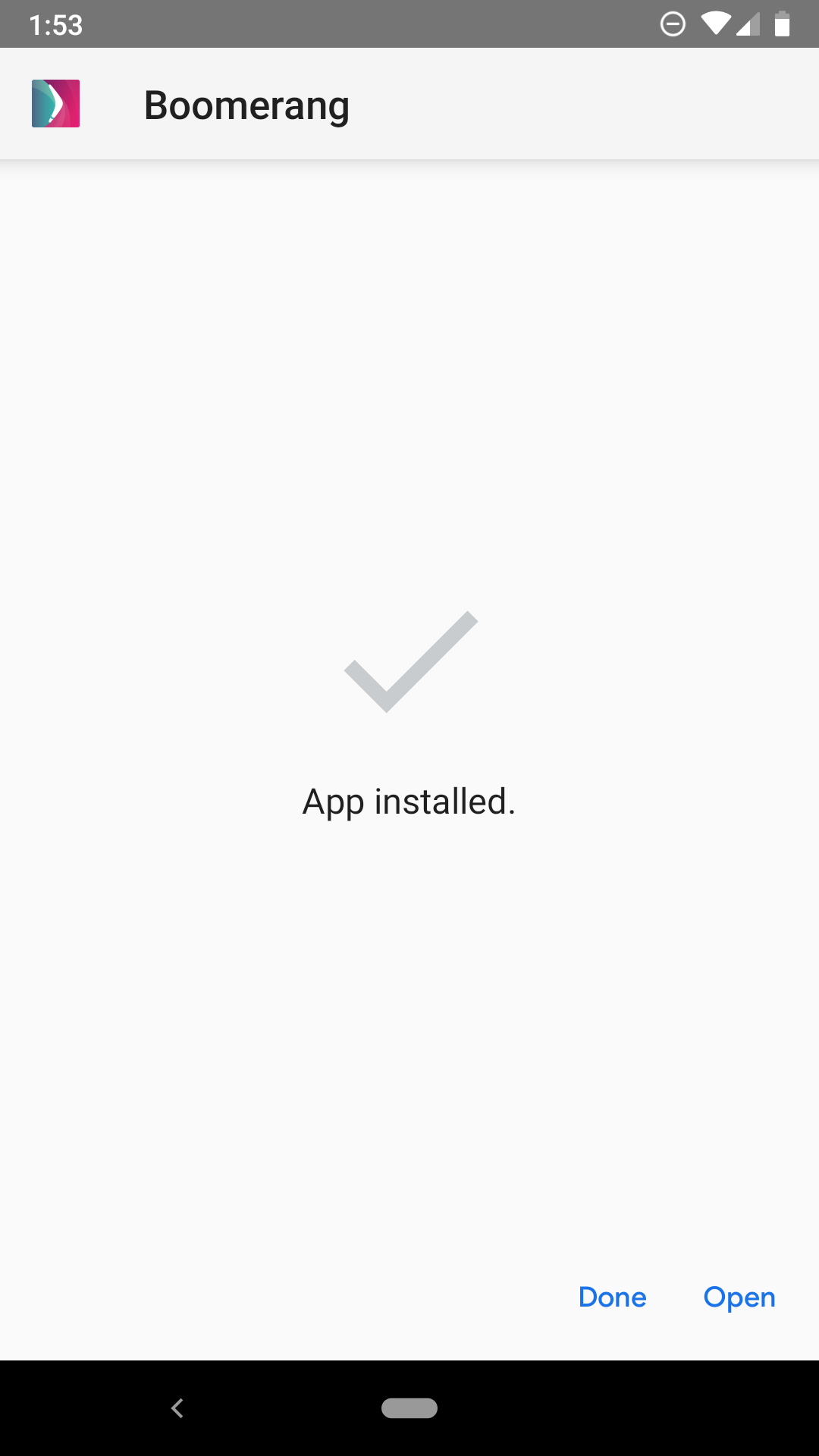 A few questions about our New Version
Do I install ON my parent device or child device?
We recommend all child smartphones get this version installed. For our parent mode it's less important as it can still control this version. You can install this version on all family devices.
Do I just install on top of the Google Play version?
Yes! We designed this version to simply upgrade our Google Play version.
What if the Google Play version is installed on top of the sideloaded version?
If the Google Play version is installed on top of the version installed from our website, we will be aware of this and inform you in Parent Mode. Boomerang runs in the background when in Child Mode, Google typically doesn't automatically update these types of apps, it requires a manual update by the user.
Going forward, how will I be made aware that there is an update?
1. We will email more often to our user base with major changes and provide release notes on our download page.
2. In Parent mode, we've added the child's app version in the device title. We will show "outdated" if it's older.
3. Later, we will look to add our own update service so we can notify within our app and update automatically for any "sideloaded" versions.
Do I need to purchase again?
No. This version sees everything retained as you set it up including your licensing information.
I received a warning "This type of file can harm your device". Is it safe to tap OK?
Absolutely. This is a normal prompt that Chrome provides when downloading programs outside of Google Play.
Resources
Related article: Google wants to shut down our safe calling & safe texting features; Help Needed! 
Examples of the Unknown Sources option under Android Settings. We recommend just searching for "unknown" in your child's Android Settings and look for Install unknown apps.